Fourth Line Factor
Dec 15 2016 05:44 AM | Doubles in
Articles
Image courtesy of Charles Krupa / Associated Press
The Wild bring a five game winning streak into tonight's tilt with the Predators in Nashville. The streak started with a rare 3-2 shootout win in Edmonton on December 4th.
As noted by the Star Tribune's Michael Russo
, a critical moment in this game came courtesy of the Wild's fourth line. Trailing 1-0 in the latter stages of an ugly first period, Gabriel crushed Oiler Matt Benning with a clean, but aggressive hit in the neutral zone. At the faceoff to start the line's very next shift, Edmonton's Zack Kassian challenged Gabriel to drop the gloves in response to the hit on Benning.
The role of fighting in hockey is about as polarizing a topic as there is in sports.
I have made my own personal feelings on the subject known in this very space
, and I have no intentions of re-hashing that here. The fact of the matter presently is that fighting still a part of the game, and it has made a resurgence of sorts for the Minnesota Wild. The Wild has nine fighting majors (16th out of 30 teams) through 28 games so far this season. For comparison, the 2015-2016 Wild had 11 fighting majors over 82 games. Of the nine fighting majors so far this season, five have come in the last five games. Gabriel has racked up four majors himself in the last five Wild games, all of which resulted in wins.
Forty seconds after Gabriel squared off with Kassian, Charlie Coyle tied the game after a nifty Nino Niederreiter feed. In his post-game blog, Russo wrote this:
Gabriel got mad props in the locker room for the move, and the fight was definitely in response to Gabriel crushing an Oiler his previous shift. Boudreau felt the turning points of the game came in the first with Gabriel's hit, then Gabriel's fight, then a Chris Stewart big hit.
There's no way to put a value or quantify the effect Gabriel's play had on this game. But Boudreau's post-game comments made it clear the Wild felt the impact.
The Wild's next game after Edmonton was a 3-2 victory in Toronto. Stewart put the Wild up 2-0 after taking a beautiful breakaway pass from Jared Spurgeon. The play also marked the first NHL career point for Gabriel, who made a nice pass to Spurgeon to start the play.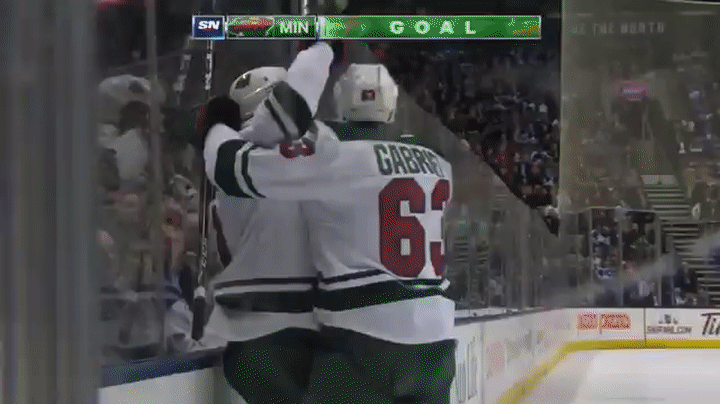 Gabriel would also drop the gloves with Toronto's Roman Polak in response to a nasty hit on Stewart. There was plenty of praise for Gabriel from the coach again,
courtesy of Russo's post-game blog
:
"He's making the team bigger. He gets his first point tonight, gets into a fight, does a good job, cheers on the bench. That's pretty good stuff, and he's making Stewy play better, too."
The Wild then returned home last Friday with another win over the Oilers, this time 3-2. There were no fights in this game, but
Boudreau again sang the praises of his fourth line:
"It's great. I mean, they bring energy -- all three of those guys," Boudreau said. "And Grao had a couple really good chances. And they play big; they give the rest of the team some protection. And it didn't matter where I played them, if it was their fourth line. After the first period, I quit caring who they were playing against, because they were doing a good job -- other than playing against McDavid. I wanted Mikko against McDavid all night."On Gabriel, Boudreau said, "He's a physical presence out there, and he's support for Stewie if Stewie wants to get a little bit mean in there, you know? We didn't have that secondary toughness, and I thought that was very important, and Gabes has given it to us. I didn't know how well Stewie would play on left wing, but he's played very well there."
Sunday night, December 11th, the Wild knocked off Central Division rival St. Louis by the score of 3-1. Gabriel fought Blues enforcer Ryan Reeves. It has been a while since the Wild have had anyone who could stand up to Reeves physical style of play.
Gabriel again received props for answering the bell
:
Kurtis Gabriel tried to spark the team with a fight against heavyweight Ryan Reaves, and in (Matt) Dumba's mind, "It started with Gabes getting that fight and I think the boys were just rolling after that."
Now, the easy argument to be made here is, 'Why do professional hockey players need someone to start a fight to spark their team? They're pros, shouldn't they be fired up to play every night?' A valid question, for sure. But like it or not, this is starting to become a part of the formula for this Wild winning streak.
All five of the Wild's goals came from the top three lines in Tuesday night's 5-1 win over Florida. But the fourth line still made its presence known. Both Stewart and Gabriel dropped the gloves in separate scraps with Florida's Dylan McIlrath.
Five straight wins for the Wild, with five fights over that span. Not necessarily a case of 'cause and effect,' but something is definitely happening here. Is Gabriel and to a lesser extent Stewart's willingness to fight the key to this Wild winning streak? I don't think so. But Boudreau is showing more confidence in the Wild's fourth line with every passing game now. If the Wild thinks this newly found element of toughness is making the team play better- like a good placebo effect, if you will- then it is. And when teams find ingredients in a formula that brings them success, don't expect to see a change in the recipe anytime soon.
Follow Doubles on Twitter:
@_2244
Follow WildXtra on Twitter:
@wildxtra
We have Facebook, too! Like WildXtra