Minnesota Wild Minor League Update: 1/20/16
Image courtesy of Iowa Wild
Iowa Wild (AHL)
Record this past week:
1-2-0
Overall record:
10-26-5 (8th in Central Division)
Friday January 15
at Chicago 3, Iowa 0
A scoreless game went into the third period, as both teams were drawing relatively even all night. However, Chicago was able to strike first scoring with 11:16 remaining in the period, then they were able to strike twice more to take the 3-0 victory. In the loss for Iowa, Jeremy Smith made 32 saves on 35 shots.
Saturday January 16
at Iowa 2, San Jose 1 (OT)
San Jose got on the board 2:46 into the second period, to take a 1-0 lead. However, Leland Irving was able to shut down the Barracuda, which allowed Jordan Schroeder to tie the game 4:23 into the third period. The game went to three on three overtime where Iowa controlled most of the play for the 1:14 that was played, ending with Gustav Olofsson redirecting a Zack Mitchell pass past the goaltender for the winner.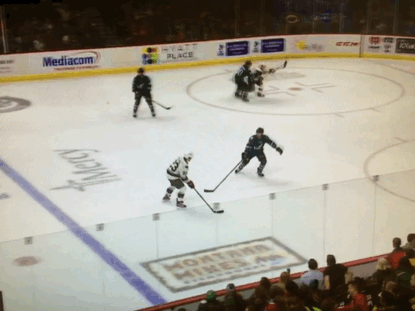 Sunday January 17
Stockton 7, at Iowa 4
After a 1-1 tie through the first 20 minutes, Stockton came out and absolutely dominated the second period, scoring three goals to take the 4-1 lead. The two teams exchanged three goals a piece in the third period, including an empty net goal by Stockton to give them seven on the night.
News and Notes
-Saturday night had an
announced crowd of 12,445 fans
, which was a record for largest crowd ever to see a hockey game in Des Moines. The previous mark was 12.136, set back in 2009.
-Defenseman Christian Folin returned to the lineup on Friday after being out since December 13 with a concussion.
-Defenseman Mike Reilly was
reassigned
to Iowa from Minnesota on Sunday.
-Defenseman Tyson Strachan was
recalled
by Minnesota on Tuesday.
Upcoming Schedule
Friday January 22 at Rockford
Saturday January 23 at Rockford
Tuesday January 26 vs Chicago
Quad City Mallards (ECHL)
Record this week:
2-1-0
Overall record:
19-6-3 (2nd in Midwest Division)
Friday January 15
at Quad City 3, Kalamazoo 2 (OT)
Both teams traded a pair of goals in the second period, but the game was scoreless beyond that headed into the overtime. Matt Neal scored the winner with 19 seconds left to play to give the Mallards a much needed victory.
Saturday January 16
Quad City 2, at Evansville 1
The Mallards got on the board first with a power play goal in the first period at the 13:38 mark. Evansville was able to tie the score in similar fashion (power play) to bring the game to a 1-1 tie after 40 minutes. With just 2:51 remaining in the game, QC's Kevin Henderson scored the game winning goal. In the win, Brody Hoffman made 38 saves for Quad City.
Sunday January 17
Kalamazoo 7, at Quad City 2
Steve Michalek was chased from the game after allowing four goals in the first period, as Quad City was starting at a 4-0 deficit in the locker room. The Mallards were able to cut that deficit in half, to bring the score to 4-2 after two, but three third period goals for the Wings sealed the win and snapped QC's three game winning streak.
News and Notes
-QC's 41 shots in Friday's win over Kalamazoo was a season high.
-Defenseman Austin Coldwell is on a eight game point streak, and has scored 10 points (1G-9A) during that time.
-Forward Matt Carey's four game goal scoring streak was snapped on Saturday.
Upcoming Schedule
Friday January 22 at Indy
Saturday January 23 at Indy
Follow Giles on Twitter @gilesferrellFollow Wild Xtra on Twitter @wildxtra