Lots to talk about with the Wild flying high on an eight-game winning streak. Let's get to it…Of the eight wins during the streak, only three of those wins have come against teams inside their respective conference's Top Eight. Those three wins have been against St. Louis and two against Edmonton. Now, you can't criticise a professional team for its schedule- the Wild is taking care of business against teams it should be taking care of. But their schedule picks up considerably, starting tonight with the first of a tough back-to-back against the Canadiens in Montreal, followed by Friday Night's matchup with the Rangers in New York City.
As many of you know, I have become a huge fan of Bruce Boudreau. Boudreau's candor and open personality have been a welcome addition to the normally media-blase` Wild. But that level of candor can sometimes come back on a guy, as well. After the Wild's 3-2 victory in Toronto on Pearl Harbor Day, Boudreau raised eyebrows with the following comment in regards to another great performance by Wild goalie Devan Dubnyk:
"If (Dubnyk) was in Toronto there'd be no Carey Price," Boudreau told reporters, when asked about the early Vezina Trophy race. "I'm just saying, media-wise. I mean, he hasn't allowed more than three goals in any game he's played this year. He's held us in all the time."
Toronto is commonly referred to as the media center of the National Hockey League. Montreal is also mentioned in that same vein. We'll see if there is any blowback to Boudreau's comments today in Montreal. Gulp.
Tuesday Night's 2-0 win over Colorado was quite impressive. The Wild brought a seven-game streak into that game, while Colorado had dropped their last three. The surging Wild are heading up in the standings, while the Avs 23 points has them at rock-bottom of the entire NHL. The Wild has seemed to struggle traditionally in such an advantageous spot, especially with the tough road trip on deck. Not the case this time, as that was one of the more decisive 2-0 games you'll ever see. Not much evidence of the Wild looking past the Avs on Tuesday Night.
So, the Wild had to be happy with that performance, right? Boudreau was quick to put things in perspective during his post-game presser, as the Wild looked ahead to the road trip:
"It's going to be a great test for us," he said. "You never go into it saying, 'Bring 'em on.' That's not what we're doing. We are going in there to see if we are really playing well or if it's sort of a masquerade right now."
This Wild team is showing no signs of getting too haughty about their recent play. That comment from Boudreau seems to indicate the Wild isn't getting fat reading their own press clippings of late.
Wild defenseman Marco Scandella returns home to play in Montreal on Thursday Night in what may be an emotional evening. This will be Scandella's second game back in Montreal since his father's passing due to prostate cancer last December.
Scandella's uncle, Sergio Momesso, played 137 of his 710 NHL games in a Canadiens uniform.
We like to have fun regarding Jason Pominville's penchant for coming close to scoring, but being denied the last couple of seasons. Those of you who follow
@wildxtra
on Twitter may have seen this picture once or fifty times following a missed scoring opportunity from Pommer:
Download attachment: IMG_0770.JPG
Well, Pommer gave us this beauty of a clip on Tuesday Night, after being robbed by Semyon Varlamov: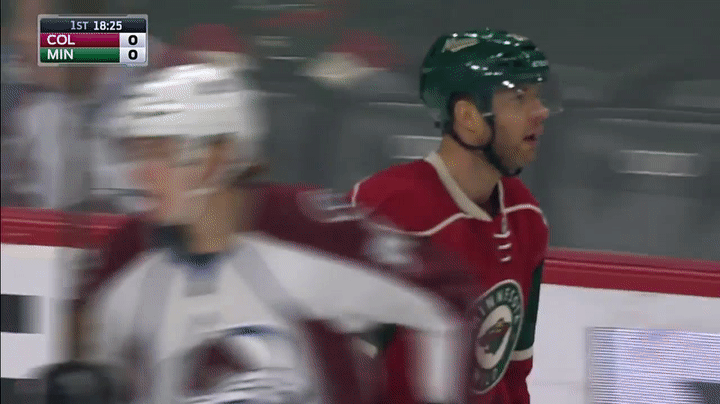 Sorry, Pommer. Don't mean to pile on. Hey, if you can't laugh at yourself, who can you laugh at?
One of my favorite hockey events of the season is right around the corner. Montreal and Toronto will be host to the 2017 International Ice Hockey Federation's World Junior Championships. Two Minnesota Wild prospects will be prominently featured as Luke Kunin and Joel Eriksson-Ek captain Team USA and Team Sweden, respectively.
Big shout-out to Giles Ferrell
@gilesferrell
. Thanks very much for your many, many contributions to Wildxtra over the last couple of years. So many contributions it lead to me calling you, "La Machine." Was a pleasure 'working' with you, Giles. You'll be missed.
Finally, Happy Holidays, Merry Christmas, and all that stuff to our readers. Thank you for checking us out. We hope your holidays are filled with quality time with your families and plenty of hockey action. Enjoy!
Follow Doubles on Twitter:
@_2244
Follow WildXtra on Twitter:
@wildxtra
We have Facebook, too! Like
WildXtra
Click here to view the article