Jared Spurgeon scored 2:36 into overtime on Tuesday night, giving the Wild a 3-2 victory against the Predators in Nashville. Let's take a look at the goal and break it down.Here is the play in it's entirety: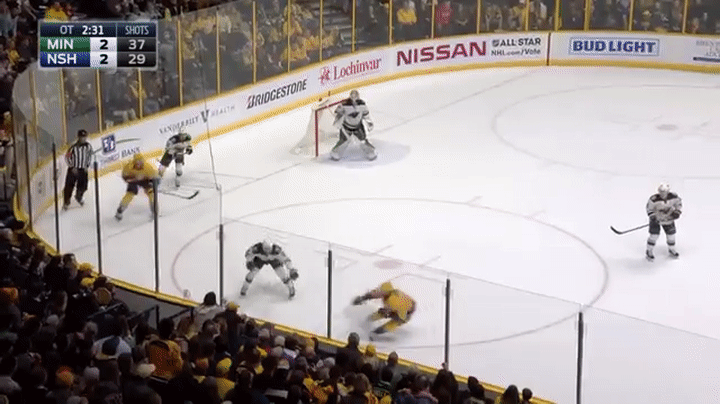 Keys to this play:
Wild goalie Devan Dubnyk actually starts this play by smartly stopping the puck behind the Wild net for Charlie Coyle. This relieved Coyle of being pressured by the forecheck of Nashville's #9 Filip Forsberg.
Recognizing Coyle is going to retrieve the puck, the Wild's Jordan Schroeder makes a quick power turn at the face-off dot, which starts his momentum for the breakout pass. Spurgeon also executes a "Turn & burn," and takes off down the left wing.
Nashville forechecker #33 Colin Wilson gets caught in no-man's land. In swinging down almost to the hash mark, he is not low enough to defend Coyle, and is a split-second late in anticipating the pass to Schroeder.
Schroeder's power turn towards the boards, combined with Wilson's position off the left post, left a wide open lane for Coyle to head-man the puck to Schroeder.
Coyle's quick pass to Schroeder catches Wilson out of position. Spurgeon breaking down the left wing has created a two-on-one that started all the way back in the Wild's defensive zone. Transition hockey at its finest.
Perds defenseman Roman Josi leaves just enough space for Schroeder to thread a pass across to Spurgeon. Boom. Eleven.
Here is another look from behind the Perds' net.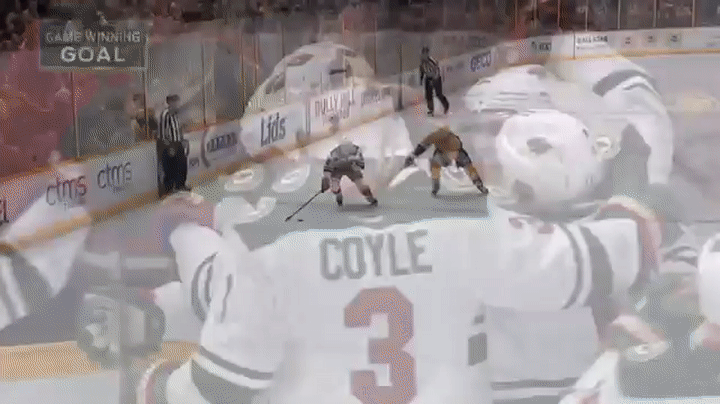 Goalies are so good these days, it is very difficult to beat a goalie with a straight-up shot. So, attackers often focus on getting goalies to move. For a goalie to move side-to-side, he must push off one skate while pointing the other skate in the direction he wants to go. In other words, for a goalie to move laterally, he must open his legs. Here is a good illustration:
So how did that puck actually go in?
Pekka Rinne's right leg comes up off the ice just enough to let Spurgeon's one-timer slide under his pad.
Follow Doubles on Twitter:
@_2244
Follow WildXtra on Twitter:
@wildxtra
We have Facebook, too! Like WildXtra
Click here to view the article